We welcome you to Porto Thassos, our elegant accommodation on Thassos island! Our hotel is located in Skala Potamias, one of the most renowned villages of Thassos, just under 14 kilometers from the port.
In Porto Thassos, you can sit back and enjoy your holidays, while we provide you with an authentic experience of Greek hospitality. Our studios and apartments are most comfortable and we will try to make sure that your stay with us will be unforgettable!
Our Studios and Apartments
Our facilities include studios and apartments for you to choose from, according to what is more suitable for your needs. Our studios are tastefully decorated and feature a double bed as well as a bunk bed and can accommodate up to 4 people. They also have a fully equipped kitchen, air conditioning system, a private bathroom as well as a balcony with a breathtaking view of the sea or the mountain Ispario. Our studios are an excellent choice for a family of 3 or 4, or two couples.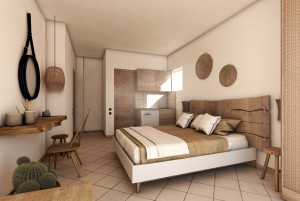 Our apartments are spacious and comfortable and can accommodate up to 6 persons, therefore they constitute an ideal choice for large families or groups of friends. Each apartment features three different spaces and two bedrooms, one with a double bed and one with two separate ones. Just like our studios, they are fully equipped and provide air-conditioning and heating, a kitchen with a dinner table, fridge, and hobs, as well as a sofa-bed.
As we deeply care to provide you with the best holiday and staying experience possible, we offer cleaning service of all rooms on a daily basis, as well as a change of towels and sheets every three days.
Our location
Porto Thassos is situated in Skala Potamias, one of the most renowned villages of Thassos. Known as the "emerald island", Thassos is considered one of the most impressive islands of Greece because of the amazing overgrown forests and lengthy beaches with turquoise waters. Thassos will enthuse you with its unique history and hospitable locals, while there are many cultural monuments that provide great sightseeing options.
Our facilities are situated under 100 meter from Chrysi Ammoudia, the so-called Golden Beach, where you can enjoy your bath under the bright sun and dive into the crystal-clear waters. Besides the amazing beach, our hotel is close to many places of interest, such as the Monastery of Archangel Michael, as well as shops, taverns, markets, and other stores. Whatever your needs are, we will be happy to assist you and make sure that you have a lovely time while you stay with us!