The fastest and shortest ferry route to Thassos is from Keramoti and it is the most popular way to get here during the summer months as there are departures every half hour and the journey time lasts only 35 minutes. The boat docks in Limenas (Thassos Town) which is only a 13 kilometers journey to Porto Thassos. Follow the signs from the ferry port for Panagia/Potamia/Skala Potamia and from Potamia follow the directions below.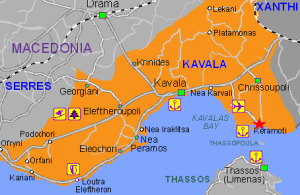 Here are some details for your arrival at Porto Thassos:
When you go out from the ferry and you arrive in the port of Thassos, go ahead ( 800 m ) to arrive in the main road. Then, you turn left and you follow the road to village Panagia ( 7.5 km ). You keep straight inside of the village Panagia, you will see some shops and restaurants. You stay in the main road and after 4 km you turn left when you see the main entrance of the Hotel Korina ( with the flags of the European countries). After, from 600 metres you turn left in the first STOP and then in 100 metres in your left side you will see the hotel Porto Thassos.